WR01
Regular price
Sale price
$54.95
Unit price
per
Twice as smart. The Insteon i3 Outlet makes nearly any plug-in device smart, with two smart outlets to control fixtures and appliances. 
Replaces a standard wall outlet to make ordinary lamps, fans, or appliances smart—no additional plug-in devices required
Features load sense technology to automatically turn on the outlet from a lamp switch - can also be used to turn on other linked devices
Use with the Insteon Hub 2 and Director app to access remotely, set schedules, and control with Amazon Alexa or Google Assistant*
Pair with other Insteon products to control each outlet independently, with or without a Hub 2
Integrated, low-profile buttons let you turn each outlet on or off at the wall
Tamper-resistant to protect your family
*Requires a subscription to Insteon Hub Account Access.
Make it smarter
Make nearly any electrical device smarter by plugging it into a Insteon i3 Outlet. You can control lamps, fans, and even small appliances like coffee makers.
Ultimate control
Insteon products work together with or without a Hub. Add the Insteon Hub 2 and Director app to simplify setup, run your lighting schedules and control your lights from anywhere with an app or with Amazon Alexa and Google Assistant. Requires a subscription to Insteon Hub Account Access.
With load sense technology, if the outlet is turned off, i3 Outlet can detect when you turn on a connected lamp or appliance and automatically turn itself on. Or if you link the outlet to other Insteon devices, it can turn those devices on throughout your home; your table lamp just became an Insteon controller.
Simple and intuitive
Insteon is designed for everyone in your household, taking the guesswork out of setting the scene or creating the perfect mood.
Intelligently reliable
Tap the app or a switch and your lights turn on. Immediately. Every time. With patented dual-mesh technology, even if your Wi-Fi is down, your smart switches and outlets still work.
Understated elegance
The Insteon i3 Outlet features a flat, matte surface with integrated buttons and indicators. The clean design of the outlet fits into any decor. Wall plate sold separately. 
Compatibility
i3 devices use the same unique dual-mesh Insteon technology that other Insteon products use. This means that out of the box, you can manually link i3 devices to virtually any Insteon device. Also, many of the local settings are similarly configurable. Read more about how to manually configure this and other Insteon devices. 
i3 devices are supported using Insteon Hub 2 and the Director app. If you use 3rd party hardware/software (eisy, Indigo, Homeseer, etc), features may be limited as we work with those developer partners to support these new devices. 
Shipping & Returns

Shipping

Shipping costs are calculated based on location and are available when checking out.

Orders placed with FedEx Intl Priority, FedEx 2 Day, or FedEx Overnight by 10am PT (Monday-Friday, non-holiday) are expected to ship same day.  Orders placed after 10am PT are expected to ship the following business day. All other orders are expected to ship within 2 business days

Customers shipping to Canada will be responsible for all duties and import fees which will be due upon receipt.

Returns & Exchanges

New Products

New items have a 30-day return window and are warrantied for 2 years from the purchase date.

Refurbished Products

Refurbished items are guaranteed to be in good working condition but may have physical imperfections and/or may not include original packaging and documentation. If the product fails to work, you may exchange it for like product within 30 days of receipt.

Clearance Products

Clearance items are sold as-is and do not carry a warranty.
Share
View full details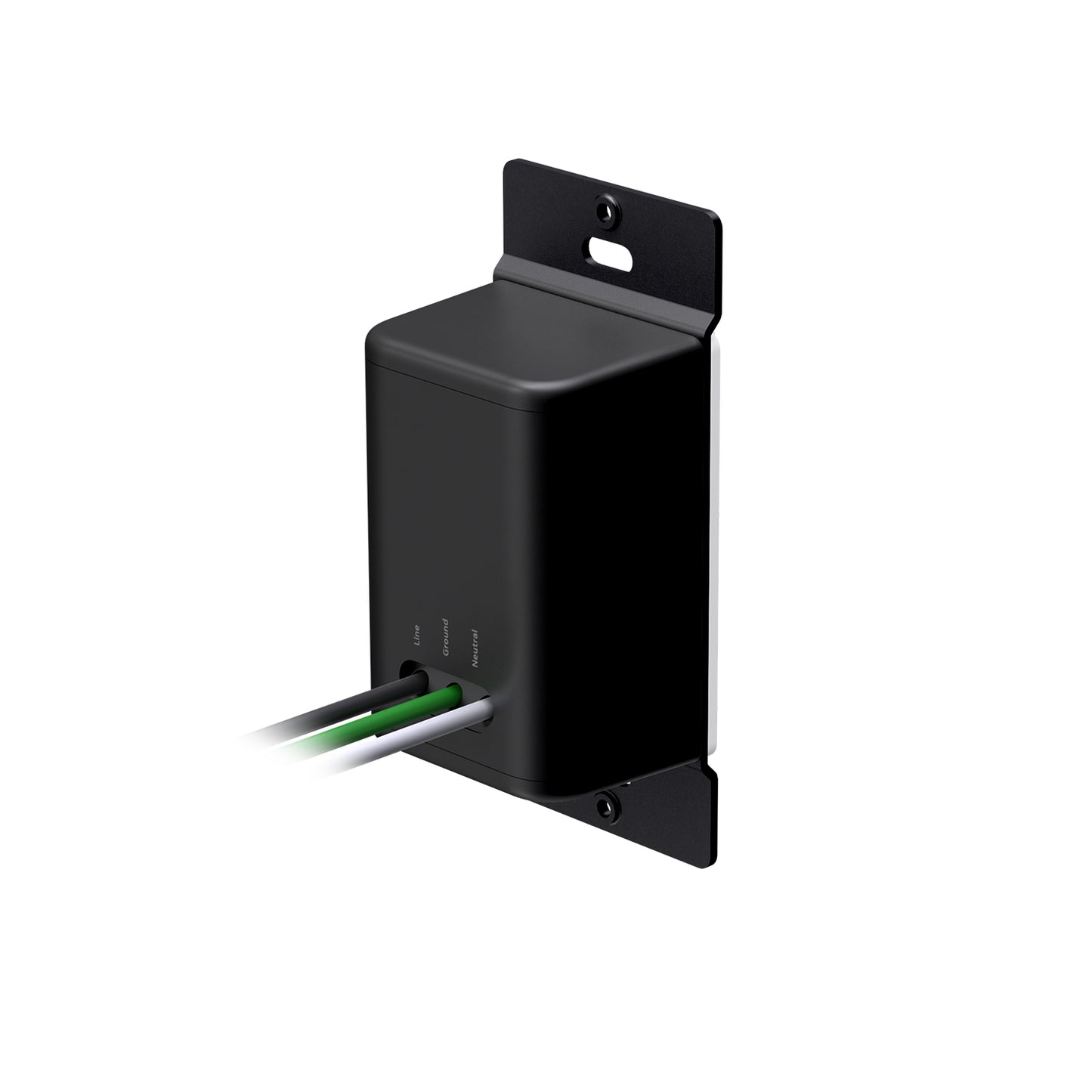 Nice update to the product line
I really like this product as well as all the i3 products as they are a great refresher to what I have felt for 15 years was the best smart home devices, insteon. Unfortunate to say, when insteon went dark i removed all of the products from my home (~70 of them) and went z-wave. Happy to say, I have hated it and am in the process of going completely back to insteon and loving the new i3 product line. Thank you for coming back strong insteon.
We appreciate your support!
New Insteon outlet install
I just bought and installed a new Insteon outlet. It installed easily and works flawlessly. My ISY is on the first floor, the outlet is on the third floor. I was concerned that the distance would pose a challenge but it didn't. The outlet also has a sleek, modern appearance. Thank you, Insteon.
Solving easily my kitchen top cabinet lighting challenge....
We changed our kitchen cabinets and at the same time also upgraded our lighting solutions i.e. wanted to add lights on top of wall cabinets. We had cabinets on both left and right side of the entrance door for kitchen and we did not want to start making new wires through the walls.
So we ended installing i3 outlets on both sides (with existing wires) and then controlling them with Insteon keypad (again with existing wires).
Now I have 2 buttons on keypad, one controlling overall lighting in kitchen and second one turning on/off the top cabinet lights on both sides of the kitchen!
Works instantly and reliably!
This is a great solution! Thanks for sharing :)
i3 Outlet purchase & Insallation
I was a little concerned when I could not get a replacement receptacle that I was familiar with. I had to purchase an Universal Devices EISY to Replace the ISY994i that was going end of life After replacing the ISY994i, the lamp receptacles did not work properly anymore. I wanted to get rid of the Lamp receptacle since I could not set the lamp to 100% light. I had no experience with the i3 Series.receptacles and paddles. My first thought was that I did not like that both receptacle plugs were programmable. My thought was I wanted to have the second receptacle to be always on. To my surprise, the i3 was easier to install than the original Insteon receptacles. As a matter of fact, I also love the idea that both receptacles were programmable, It is easy to set the receptacles to be on all the time. It was easier to install the i3 receptacles than the original Insteon receptacles. Everything went perfect. I was sad when it looked like Insteon was nevermore. The new management is coming up with better technology for us to use and is compatible with my Universal Devices controllers.. Thank you Insteon!!!!
Much better than old version
Just replaced an intermittently responding older style Insteon outlet with this I3. Works great.